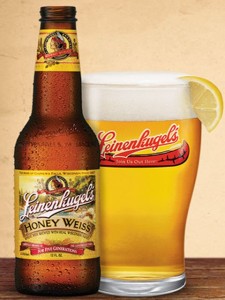 Brewer Reviewer's Take: Leinenkugel's Honey Weiss has found a missing ingredient in a weiss style beer…honey.  Leinie's Honey Weiss fits the definition that you can't appreciate the sweet without the sour.  Carmel in color back in the brewer reviewer labs, but it gives off a straw like color to the naked eye.  A good summer beer that can be enjoyed year round. Honey Weiss fits the bill on a hot summer night or a cool autumn one.  A must try if your travels take you through the north woods.
Scale 1-5 (5 being the best)
Aroma: 4; Appearance: 4; Flavor: 4; Mouthfeel: 5; Stylistic Accuracy: 4; Overall Impression: 4
Alcohol by Volume (ABV): 4.9%
Brewed By Jacob Leinenkugel Brewing Company
124 E Elm St
Chippewa Falls
Wisconsin
USA
North America
(715) 723-5558
Brewer's Notes: Featuring a touch of real Wisconsin honey, Leinenkugel's Honey Weiss is a golden-hued American wheat beer inspired by a classic German style. It's traditionally garnished with a lemon wedge for added citrus aroma that perfectly complements the sweet, subtle flavors of the beer.
Would you like to share your opinion of Leinenkugel's Honey Weiss? Submit your review below.