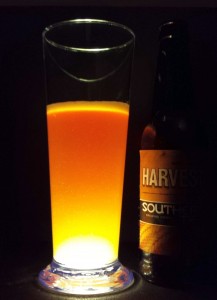 Brewer Reviewer's Take:  While Southern Tier's special ale harvest seasonal is not a typical ESB it could be in a category of its own. Harvest seasonal has the traits of a typical Extra Strong Bitter in its Carmel/deep ruby color and mouthfeel. A bitter aftertaste that lingers is stylistically accurate and it is paired nicely with 4 varieties of hops. Brewer Reviewer's neighbor brought some back from a trip to Buffalo, NY.  While New York is anything but southern, this is a great brew from Lakewood, NY.  A good addition to Southern Tier Brewing Company's seasonal offerings artfully crafted for a September release yearly.  Cheerio!
Scale 1-5 (5 being the best)
Aroma: 4; Appearance: 5; Flavor: 4; Mouthfeel: 5; Stylistic Accuracy: 4; Overall Impression: 5
Alcohol by Volume (ABV): 6.7%
Brewed By Southern Tier Brewing Company
2072 Stoneman Circle
Lakewood
New York
USA
North America
(716) 763-5479
www.stbcbeer.com
Brewer's Notes:  Our celebration of the change of the seasons, a deeply comforting ale to usher in the sunset as the evenings get cooler.  In salutation to that special moment in time when the years harvest is a gracious cornucopia before us, we take a combination of English hops, cracked barley and hard work to brew a classic English style Extra Special Bitter of the highest order.  Let Harvests deep ruby color take you away to a bright autumn mountainside where a warm sweater, a good beer and the gratitude for the seasons are all you need.
Have you tried Harvest Ale? Share your review by filling out your review below.