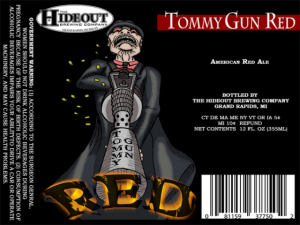 Brewer Reviewer's Take: Tommy Gun Red by Hideout Brewing Company is a bit more caramel than red in hue. I expected a higher carbonation level as is common in American-Style Amber/Red Ales. Citrus hop in aroma and leaves with a head that lingers. Long lasting aftertaste that sits on the back of the tongue. a good addition to the hideout arsenal of beers that makes me want to try their other formulas.
Scale 1-5 (5 being the best)
Aroma: 4; Appearance: 4; Flavor: 4; Mouthfeel: 3; Stylistic Accuracy: 4; Overall Impression: 4
Alcohol by Volume (ABV): 5.5%
Brewed By Hideout Brewing Company
3113 Plaza Dr NE
Grand Rapids
Michigan
USA
North America
(616) 361-9658
http://hideoutbrewing.com
Beauty is in the eye of the beer holder. Share your review of Tommy Gun Red below.