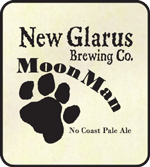 Brewer Reviewer's Take: The New Glarus brewing company has definitely eliminated the coast from this pale ale. While moon man does not fit comfortably into a category, it is an American-style pale ale and stands up to the test against others in this category. A more amber hue follows the long lasting head. Moon man serves up a friendly hop aroma and some grassy notes. Carbonation is a bit less than expected for an American-style pale ale. Moon man is a solid addition to the New Glarus collection.
Scale 1-5 (5 being the best)
Aroma: 5; Appearance: 5; Flavor: 4; Mouthfeel: 4; Stylistic Accuracy: 4; Overall Impression: 4
Alcohol by Volume (ABV): 5%
Brewed By New Glarus Brewing Company
2400 State Hwy 69
New Glarus
Wisconsin
USA
North America
(608) 527-5850
http://www.newglarusbrewing.com
Brewer's Notes: Moon Man is a seriously cool cat. Always comfortable in his own skin, he never tries too hard. So cool we named our "no coast" pale ale after him. You hold a session beer with a bright bold blend of five hops that flirt obligingly with the smooth malty backside. Don't let this one lay around it is brewed to be enjoyed today. Bold and engaging without pretense, because in Wisconsin you do not have to be extreme to be real.
What, like in the back of a Volkswagon? Did Moon Man make you uncomfortable or was it like Mr. Toad's Wild Ride? Give us your review below.