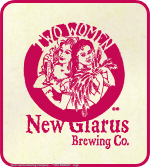 Brewer Reviewer's take:  Two Women by New Glarus Brewing Company lives up to an American-Style Lager in that it is highly carbonated.  Two Women has a great aroma and a bit of floral hopiness is noted.  A refreshing beer in that it is easy to drink and leaves a deliciously long aftertaste.  Beautiful in appearance and a nice pour and gives little head.  Two Women has more caramel color then a typical American-Style Lager.  The additional hop flavor and caramel hue may explain why New Glarus has categorized Two Women as a Classic Country Lager.  Delicate hop flavor is persistent throughout the experience.
Overall, Two Women has a well balanced flavor and is a delicious addition to Brewer Reviewer.  Two Women comes highly recommended.
Scale 1-5 (5 being the best)
Aroma: 5; Appearance: 4; Flavor: 4; Mouthfeel: 3; Stylistic Accuracy: 4; Overall Impression: 4
Alcohol by Volume (ABV): 5%
Brewed By New Glarus Brewing Company
2400 State Hwy 69
New Glarus
Wisconsin
USA
North America
(608) 527-5850
http://www.newglarusbrewing.com
Brewer's Notes:  Four thousand years before Christ, Sumerian women created the divine drink of beer. Viking women brewed in Norse society. European Ale Wives were so successful as cottage brewers they were taxed. Artisanal women lost their domination of the daily ritual of brewing during the Industrial Revolution. Today's brewing trade is controlled by men.  The collaboration of two Craft companies both led by women, New Glarus Brewing and Weyermann Malting, is unique. You hold the result "Two Women" a Classic Country Lager brewed with Weyermann's floor malted Bohemian malt and Hallertau Mittelfrueh hops. A tempting and graceful classic lager found…Only in Wisconsin!
The dude abides. Does Two Women by New Glarus Brewing? Submit your review below.